PAGAN THEMES IN CLASSICAL MUSIC
---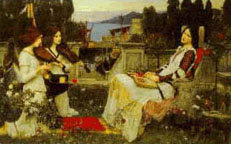 ---
A reference and link site for those wishing to reclaim some of the better parts of their Western Cultural Heritage.
---

WORK IN PROGRESS

---
Eventually I'd like this site to be a really big list, cross-referenced by subject, composer, title, and chronology, of all the pieces of music written for traditional symphony, or large chamber orchestra, which are written to describe or reflect on subjects of magic, mythology, and fairy tales, themes of nature, folklore, or mysticism. * (see`Subjectivity Warning'). Just to get this up and running, however, and because a lot of people ask me for a " start up list", I'm offering a "Top Ten" list, with links to other sites that go into more depth about each piece. I'm currently compiling a big list, and will get it up and cross referenced as soon as I can, but if you know of any good examples of a piece of music that falls into the above parameters that you think I probably haven't heard of yet e-mail me
.-Thanx, CSC.


---
SUBJECTIVITY WARNING
Although I mean this list to be pretty all inclusive, everything I post here will be subject to my whim and taste. Period. The sad truth is, I'm just not that interested in most early music. Hardly anything till after Beethoven (except Bach, of course) was written with the kind of melodic, and rhythmic sophistication that modern ears have become accustomed to. In my opinion. There is, in fact, a positive wealth of early music written on themes of classical mythology, and old testament Bible tales (for those of you interested in pursuing themes of the pre-Christian, Semitic myths and legends ). If you're interested in this kind of material, there are probably some early music sites that would interest you, and if I happen to run across any, I'll put 'em here, otherwise, you're on your own. Likewise, I'm not a big fan of "twelve tone", or "serialist" music, and although I'm not currently aware of any serialist music on pagan themes, I'm not going to bother looking for any. What is listed here will be stuff I like, and think that many folks who are not used to listening to a lot of Western Classical music will also like, and find interesting, and hopefully come back looking for more.
---
Click here to visit the
-A handy guide to classical music you can use in the classroom.
---
l THE LIST l
---

1) Le Sacre du Printemps ( The Rite of Spring) subtitled: Scenes of Pagan Russia
Igor Stavinsky ( 1882-1971)




This is a terrifically important piece of music both for Pagans, and for the history of western classical music in general. Aside from it's appearance in the Walt Disney movie, Fantaisia , The Rite of Spring is most famous for causing an actual riot in the concert hall on the night of it's premier, in 1913. The 'Rite' or ritual described in this remarkable ballet is the ritual sacrifice that must be offered in the spring, to secure the bountiful harvests of Summer and Fall. Because this is a stage work the sacrifice is a human one, and because this is a ballet the sacrifice is achieved by dancing to death ( a fate that only ever occurs in ballets, and some few fairy tales).


While this subject matter alone seems sufficient to cause a riot, it was truly the startling new music, and
choreography that instigated the unrest. If Walt Disney did nothing else of good in his life (and a great deal that
was not so good) he did help American ears understand and appreciate the startling rhythms and jarring
melodies that so distressed the audiences of 1913, and the metaphor that Disney chose for his interpretation of
Stravinski's work is one which, I think the composer would have approved of. But now go and listen to it and try
not to think of dinosaurs. You'll be glad you did.
---
2) Prelude a 'L'apres-midi d'un Faune ( Prelude to the Afternoon of a Faun)
Claude Debussy (1862-1918)

This piece too, is important in the history of Western Classical Music. Composed in 1894, it is credited with being the first Impressionist piece of music, a musical style which coincided with the artistic one of the same name, and a literary style called symbolism. A French poet who helped define this style, named Mallarme, wrote the poem, about an aging faun reflecting with nostalgia and sorrow on his younger days, which inspired Debussy's music. ( Interestingly, the Italian animator, Bruno Bozetto, stuck pretty closely to the afore mentioned subject matter in his spoof of Walt Disney's Fantasia, "Allegro no Troppo"- in which he creates animated features to accompany Debussy's Prelude to the Afternoon of a Faun, Ravel's Bolero, Stravinski's Firebird, Sibelius' Waltz Triste, and others. I highly recommend renting it at your local video store.) This is a mood piece. To listen to this find a quiet time and allow the music to transport you to the Elysian Fields.
---
3)The Planets
Gustav Holst (1874-1934)

Holst called this work "a series of mood pictures". There are seven in all, one for each of the 'traditional' planets, and each 'picture' is informed by Holst's extensive knowledge of astrology, Sanskrit, and other oriental esoterica. These pieces make excellent meditations, and to make a complete Tree of Life, add Moussorgsky's Ox Cart from 'Pictures at an Exhibition' for Earth, Debussy's Claire de Lune for the Moon, and Carl Nielsen's, Helios Overture for the Sun.
---
4)L'apprenti Sorcier (The Sorcerer's Apprentice)
Paul Dukas (1865-1935)

Once again, I must reluctantly give credit to Walt Disney for popularizing a remarkable piece of music, which might otherwise have languished in obscurity. The reason that, though this piece is popular, the name of Paul Dukas is not widely known, is the M. Dukas published only a handful of pieces before he died, and just before he died he burned every one of his unpublished manuscripts. He was known as something of a perfectionist, and one story has it that we only have The Sorcerers Apprentice because Maurice Ravel won it off him in a bet. If you think you know this piece, give it a second look. Make sure you have a recording that's not from the movie, or another recording of the Stokowski arraignment, banish all thoughts and images of Mickey Mouse, and have a good long listen to M. Dukas delightfully creepy' musical adaptation of a tale by Goethe. This piece has my vote for the best 'Magical Incantation' in all of classical music.
---
5)Four Legends from the Kalevala
Jean Sibelius (1865-1957)
The Kalavela is the Finnish national mythic cycle. It concerns the exploits of heroes with names like Kullervo, and Lemminkainen, and their adventures with wicked witches, trolls, magic mills, and enchanted swans. With the exception of his seven symphonies, most of Sibelius' orchestral music is written on themes dedicated to the folklore and nationality of Finland. It is worth noting that when Sibelius began his career there was not a nation of Finland. What is today that nation was then part of Russia (and then the USSR), and some neighboring Scandinavian countries. World Wars I and II set the climate that made it possible for modern Finland to be assembled, but Sibelius music is very much responsible for bringing the national identity and cultural heritage of the Finnish people to the rest of the world when the rest of the world's good will and consent was required to grant Finland it's nationhood. A spectacular example of the power of music. It will come as no suprise to the reader that I am a great fan of Sibelius. If you like what you hear in 'Four Legends' I highly recommend his last ever composition, Tapiola, a musical portrait of the Finnish ancient forest God, Tapio. It is the darkest piece of music I have ever heard, and if you have the opportunity to visit an ancient northern old growth forest, you will recognize this music.
<
---
6)Daphnis et Chloe (suite from the ballet, No. 2)
Maurice Ravel (1875-1937)

This is another French Impressionist work by the other great composer in this style besides Debussy. Anyone looking closely will soon note that I am also a great fan of the French Impressionists, and this piece is chosen not so much for it's context (the story of this ballet is set in classical Greece, with a cast of nymphs and fairies, but nothing much actually happens), but for it's incredibly vivid musical imagery. The 2nd suite opens with one of the most amazingly realistic and stirring musical depiction's of a summer dawn I have ever heard, goes on to describe ramblings though a magical woodland (compete with butterflies), and finishes with a wild revel and Bacchanal! Who could pass that up?
---
7) Primavera (spring) from Trittico Botticelliano (Three Botticelli Paintings)
Ottorino Respighi (1879-1936)
Botticelli's images of Gods and Goddesses from the classical era are ones that should be familiar to all Pagans. His Primavera, and Venus (he's the one who painted her on the 'half-shell') are two of the three paintings that Respighi illustrates in his 'Three Botticellis' (the third is the Three Magi, from the nativity. Oh well...). I've picked Primavera because, once again the composer has painted a really vivid musical picture, replete with choruses of birdsong, and a country dance, for the dancing muses in Botticelli's painting. This piece is a real spirit lifter, as one might expect from a proper evocation of Spring.
---
8) Symphony No. 2, "Mysterious Mountain"
Alan Hovanass (1911-present)
When I first began compiling this list Alan Hovanass was still alive and composing in a suburb of Seattle, but early this summer the 97 yr old composor passed away. This prolific composor's music is inspired by themes of nature, Armenian Orthodox hymns, mysticism, and Japanese musical motifs. He also seems to have a fascination for mountains, and in the late 1980's this longtime resident of the northwest premiered his Symphony No. 50, the Mount St. Hellens. The mountain described in his Symphony No. 2 is more metaphorical (and it doesn't erupt). This short symphony in one movement is a beautiful meditation on the ideal of the mountain, in myth legend or mystical vision.
---
9) Ritual Fire Dance from El Amor Brujo ( Love, the Magician)
Manuel de Falla (1876-1946)

Manuel de Falla is considered to be, like Sibelius, one of the many composers of the early 20th century referred to as Nationalists, that is they draw on themes of local mythology, folklore and folk music, as inspiration in their compositions. Before Falla, neither Spain's native culture nor Spanish music was taken seriously by the rest of the world. Falla was trained in Paris, and then promptly took all of his fancy classical training and used it to write music and operas about peasant and Gypsy life, using actual folk and Gypsy melodies in his compositions. His music was almost immediately wildly popular as it is still today in the concert hall. El Amore Brujo is a short ballet about a tragic love (aren't they all?) but mostly about the lives of the Gypsies and their music. I don't know the reason for the Fire Dance in the ballet, but that's what it undoubtedly is.
---
10) Baba Yaga, Kikimora, & The Enchanted Lake
Anatoly Lyadov (1855-1914)
Okay, I cheated, 'cause this is three unrelated pieces by the Russian Nationalist, Lyadov. Mostly he wrote
little gem-like tone poems such as these, and while I couldn't pass up the chance to get at least one real witch
(Baba Yaga) into the top ten, I just couldn't let it go without mentioning the other two because I like them so
much. Kikimora is a strange enchanted creature from Russian folk tales who sits by the fire with glowing eyes
and tells strange stories, and The Enchanted Lake is one of the most sublimely beautiful musical moments I know
of. Well worth the work of finding recordings by this slightly obscure composer.
---
* HONORABLE MENTION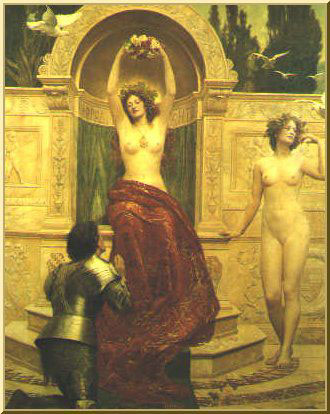 The Ring Cycle: (Der Rings des Nibelungen) Richard Wagner (1813-1883)

Comprises 4 (!) operas: Das Rheingold, Die Walkure (The Valkiries), Sigfried, and Gotterdammerung (Twilight of the Gods) Based fairly faithfully on Norse mythology. Rent the videos, and read the subtitles.













---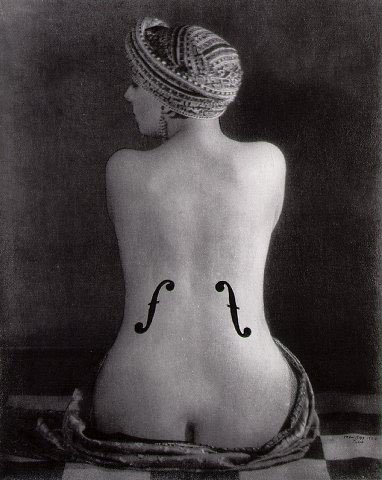 >
More to come! Stay tuned.